White Chocolate Dipped Strawberries Recipe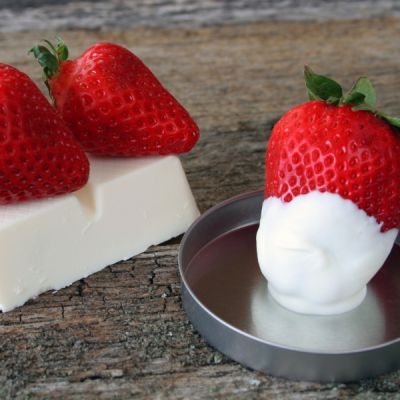 This is an easy recipe for white chocolate dipped strawberries.
Ingredients
2 cups 12 ounces) white baking chips
1 tablespoon sthortening
18 large clean and dry strawberries with leaves
Directions
Select perfect firm but ripe berries.
Wash, drain and leave green hull on berries.
Make sure your berries are dry.
Cover cookie sheet with waxed paper. Heat white baking chips and 1 tablespoon shortening in a 2-quart saucepan over low heat, stirring constantly, until the chips are melted.
For each strawberry, poke fork or toothpick into the stem end, and dip 3/4 of the way into the melted chips, leaving top of strawberry and leaves uncoated.
Place on waxed paper-covered cookie sheet. Refrigerage about 30 minutes or until the coating is set.