White Cake With Blueberry Sauce Recipe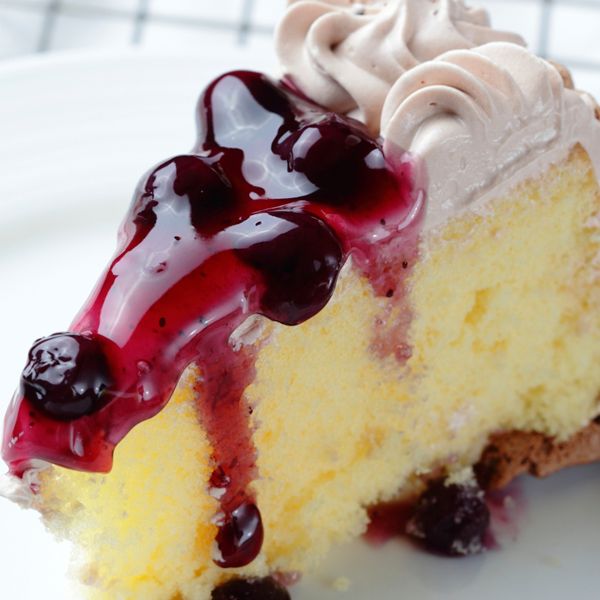 A Yummy white cake recipe with sweet blueberry sauce and fresh blueberry frosting.
Ingredients
Cake
1 cup white sugar
1/2 cup butter
2 eggs
2 teaspoons vanilla extract
1 1/2 cups all purpose flour
1 1/3 teaspoons baking powder
1/2 cup milk
Frosting
1 cups blueberries
3 cups confectioners sugar
1 cup cream cheese, at room temperature
1 teaspoon lemon juice
Blueberry Sauce
2 cups blueberries
1/2 cup water
1/2 cup granulated sugar
2 tablespoons lemon juice
2 tablespoons cornstarch
2 tablespoons cold water
1/2 teaspoon vanilla extract
Directions
Preheat oven to 350 degrees F.
Grease and flour a 9 inch round cake pan.
In a medium bowl, cream together the sugar and butter.
Beat in the eggs, one at a time, then stir in the vanilla.
Combine flour and baking powder, add to the creamed mixture and mix well.
Stir in milk until batter is smooth.
Pour batter into the prepared pan and Bake for 35-40 minutes or until toothpick inserted in the center comes out clean. Let cool completely.
Frosting
Use a food processor and pulse blueberries.
With an electric mixer combine sugar, lemon juice and cream cheese.
Add the blueberries to your cream cheese frosting and mix until combined.
Frost cooled cake with frosting and chill until ready to serve.
Blueberry Sauce
In a saucepan over medium heat, combine the blueberries, water, sugar and lemon juice. Stirring often, bring to a low boil.
In a small bowl, mix the cornstarch with 2 tablespoons of cold water.
Stir the corn starch into the blueberries, Simmer 5 minutes or until sauce is thick.