Tangy Greek Roasted Potatoes Recipe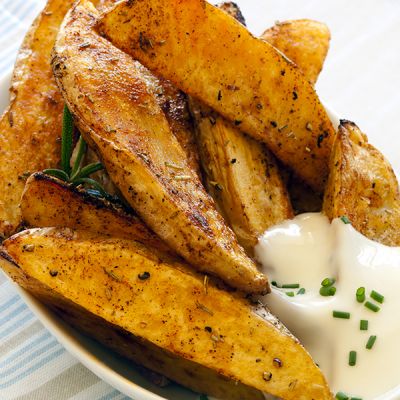 Tangy delicious Greek Roasted Potatoes.
Ingredients
8 (3 inch) small russet potatoes
1/4 cup vegetable or olive oil
2 Tablespoons freshly squeezed lemon juice
1 Tablespoon oregano flakes
1 Tablespoon parsley flakes
4 garlic cloves, minced
1 teaspoon sea salt
1/2 teaspoon pepper
Serves 6-8
Directions
Preheat oven to 400°F.
Line a baking sheet with parchment paper or aluminum foil and lightly grease.
Peel the potatoes and cut into wedges. Rinse and dry off with paper towels or a clean tea towel.
Put into a large bowl and set aside.
In a bowl, stir together the oil, lemon juice oregano, parsley, minced cloves, salt and pepper.
Drizzle the sauce over the potato wedges and
toss to coat evenly.
Place the potatoes onto the baking sheet without stacking and place into the preheated oven.
Bake for 30 minutes.
Flip the potatoes and bake another 15 minutes.
Flip again if necessary to brown up the potatoes on all sides.
Serve hot.