Sweet And Sticky Stir Fry Pork Recipe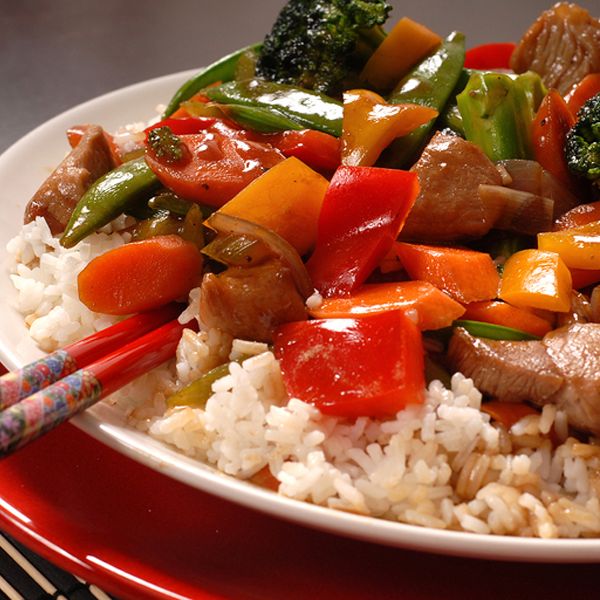 Sweet and Sticky Stir Fry Pork Recipe is delicious and packed with colorful vegetables
Ingredients
Makes about 8 servings
3/4 cups sugar
3/4 cups water, divided
1 1/2 lb. boneless pork loing, cut into bite sized pieces
3 tablespoons fish sauce
2 tablespoons soy sauce
1 tablespoon vegetable oil
1 tablespoon minced garlic
3 eggs, whisked
1 medium red pepper cut into slices
1 medium yellow pepper cut into slices
1 pound fresh snow or snap peas
1 large piece of broccoli cut into flowerette pieces
1 large carrot thinly sliced
2 cups cooked jasmine rice
Directions
Pour sugar and half of water in medium skillet on medium-high heat.
Cook and stir 6–8 minutes or until syrup is light golden brown. Be careful that it does not burn.
Add pork; stir to coat with the syrup. Stir in remaining water and fish and soy sauces.
Reduce heat to low; simmer 10 minutes or until pork is cooked through and liquid is reduced to a light syrup.
Add the vegetables, cover with a lid and cook for another 5-7 minutes.
Heat 1 tablespoon oil in a wok or large skillet on medium-high heat.
Add garlic and eggs; scramble until set. Add rice; stir-fry 3 minutes, or until rice is heated through.
Serve with the rice mixture on the bottom and the sweet sticky pork and vegetable poured on top.