Spagetti And Meatballs Recipe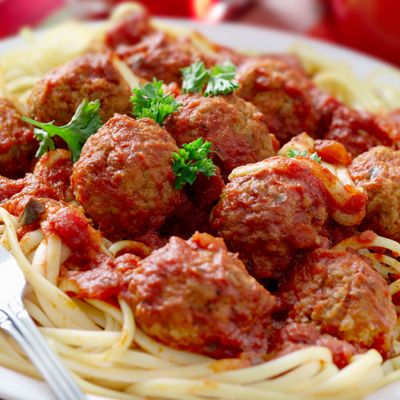 This is a spagetti and meatball recipe so full of flavor.
Ingredients
2 tbsp (25 mL) extra-virgin olive oil
2 onions, finely chopped
3 cloves garlic, minced
1 egg
1/2 cup (125 mL) ricotta cheese
2 tsp (10 mL ) fennel seeds, lightly crushed
1-1/4 tsp (6 mL) salt
3/4 tsp (4 mL) pepper
1/4 tsp (1 mL ) each ground cinnamon, cloves and nutmeg
1 cup (250 mL ) coarse fresh bread crumbs
1/4 cup (50 mL) minced fresh parsley
1/4 cup (50 mL) grated Romano or Parmesan cheese
8 oz (250 g) lean ground beef
8 oz (250 g) lean ground pork
1/2 cup 125 mL ) dry red or white wine or chicken stock
1 can (28 oz/796 mL) diced tomatoes
1-1/2 cups (375 mL) crushed canned tomatoes
1/2 cup (125 mL) coarsely chopped fresh basil (or 2 tsp/10 mL dried)
1/4 tsp (1 mL) granulated sugar
1-1/2 lb (750 g) spaghetti
Directions
In large nonstick skillet, heat half of the oil over medium heat; fry onions and garlic, stirring occasionally, until onions are golden, 10 to 12 minutes. Scrape into bowl.
In large bowl, whisk together egg, ricotta cheese, fennel seeds, 1/4 tsp (4 mL) of the salt, pepper, cinnamon, cloves and nutmeg. Stir in bread crumbs, parsley, Romano cheese and half of the onion mixture. Add beef and pork; mix well. Refrigerate for 30 minutes.
Wetting hands if necessary to prevent sticking, form meat mixture by rounded tablespoonfuls (15 mL) into balls. Add remaining oil to pan. Brown meatballs over medium-high heat, in 2 batches; with slotted spoon, transfer to plate. Pour off fat.
Add wine to pan; bring to boil, stirring and scraping up brown bits. Transfer to Dutch oven. Stir in remaining onion mixture, diced and crushed tomatoes, half of the basil (or all dried, if using), the sugar and remaining salt. Add meatballs. Cover and simmer over low heat, stirring occasionally, for 25 minutes. (Make-ahead: Let cool for 30minutes. Transfer to refrigerator and let cool completely. Refrigerate in airtight container for up to 3 days or freeze for up to 1month.)
Meanwhile, in large pot of boiling salted water, cook spaghetti until tender but firm, 8 to 10 minutes; drain and return to pot.
Add about 1 cup (250 mL) of the sauce to pasta; toss to coat. Serve with remaining sauce and meatballs spooned over top. Garnish with remaining basil.