Peanut Butter Fudge Tarts Recipe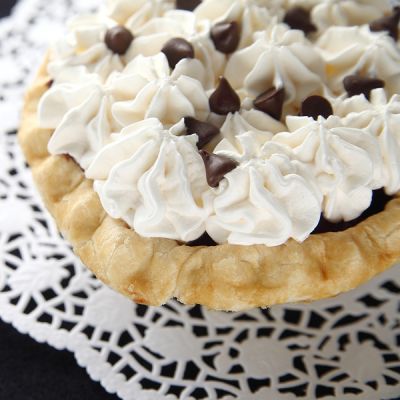 This peanut butter fudge tart recipe is a nice change to a regular tart and has the flavors of peanut butter, chocolate and always a favorite, whipping cream.
Ingredients
Crust
1/4 cup peanut butter
3 Tablespoons packed brown sugar
2 Tablespoons butter, cold & cut into small pieces
1 1/2 Tablespoons light corn syrup
1 cup all-purpose flour
1/4 teaspoon salt
3 Tablespoons cold water
Filling
2/3 cup dark brown sugar
2 Tablespoons cocoa powder
2 Tablespoons chocolate chips
1 Tablespoon butter
3 Tablespoons milk
2 Tablespoons all purpose flour
1 large egg
Whipped Cream
1 cup heavy cream
1 Tablespoon granulated sugar
1/2 teaspoon pure vanilla extract
Chocolate chips
Makes 12 - 2 inch tarts
Directions
Crust
Preheat oven to 350F.
Grease 12 - 2 inch tart shells with oil.
Beat together peanut butter, sugar, butter and corn syrup until smooth. Add flour, salt and water and mix till its just combined and has formed a dough.
Roll out dough on a lightly floured surface and cut out 3 inch circles, line your prepared tart tins with the dough cutting off excess. Set aside.
Filling
In a small pot melt together sugar, cocoa powder, chocolate chips, butter and milk on low heat. Stir until smooth.
Remove from heat and add in flour and egg and mix till its well incorporated.
Pour batter into prepared tart shells and bake for 12 - 15 minutes, or until crust is a golden brown. Let cool on a wire rack, once cool enough to touch remove tarts from tart tins and let cool completely on a wire rack.
Whipped Cream
Put your mixing bowl and beaters into the freezer for 15 minutes.
Pour the heavy cream into the chilled mixing bowl and beat for a minute.
Add the sugar and vanilla and continue beating until you have reached the perfect consistency.
Keep refrigerated.
Assembly
Pipe whipped cream on top of each cooled tart and garnish with some chocolate chips. Serve.