Lemon Danish Recipe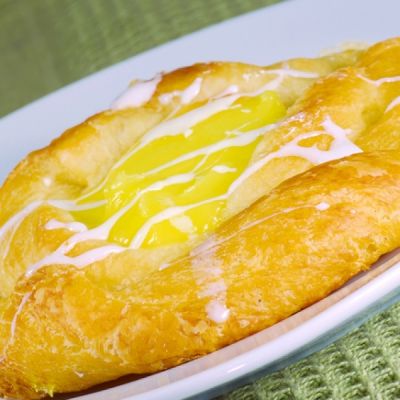 An easy recipe for delicious lemon danish. Great enjoyed with an afternoon tea.
Ingredients
Lemon Curd
1/2 cup granulated sugar
1/4 cup cold water
3 tablespoons cornstarch
1/4 cup fresh lemon juice
2 teaspoons lemon zest
Danish
1 tube Crescent Roll dough (8 rolls)
1/3 cup nonfat vanilla Greek yogurt
2 tablespoons sugar

Glaze
1/4 cup white chocolate chips
1/4 cup heavy cream
Directions
Preheat oven to 350 degrees. Line a cookie sheet with parchment paper.
To make the lemon curd: Mix sugar, water, and cornstarch in a medium saucepan over medium-low heat. Whisk together until no lumps remain, then stir with a wooden spoon constantly until the mixture begins to thicken. After 4 minutes, add the lemon juice and zest. Continue stirring rapidly, it will thicken very quickly once the mixture boils again. Remove from heat and place in a heat safe bowl. Let cool on the counter, cover and refrigerate once cool.
To make the Glaze: Heat the white chocolate chips and heavy cream together in a microwave safe bowl, about 30-45 seconds. Stir until smooth. Let cool while the danish bake.
To make the Danish: Unroll the crescent rolls into a large rectangle. Break the rectangle in half along the seam, so you have two rectangle made up of four crescent rolls each. Press the seams together, and then cut each rectangle into four squares, for eight total danishes.
Mix the Greek yogurt and sugar in a small bowl. Place about a tablespoon in the center of each square.
Top the yogurt with about a tablespoon of lemon curd. Fold up the edges, pinching to seal the corners as much as you can. Transfer carefully to prepared cookie sheets.
Bake about 8 minutes, until the pastry is golden brown on top. Drizzle with the glaze. Cool before eating.