Hummus Recipe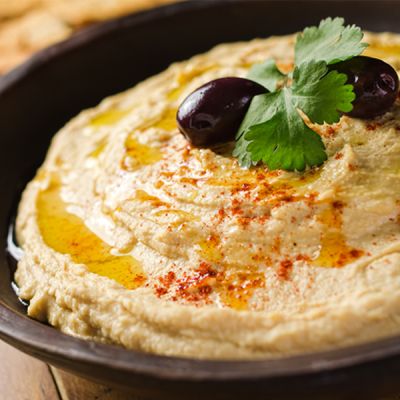 The perfect chickpea dip recipe to hold you over before your dinner is ready. Creamy and delicious. This dip is filling and good for you.
Ingredients
1 can chickpeas (or about 2 cups of dried chickpeas that you have soaked overnight and then cooked for about an hour with double the water)half a clove - two cloves garlic (depending on your tastes and the potency of the garlic)
1/3 cup olive oil
1/2 a lemon, squeezed
1/3 cup water
1 tbsp either tahini, peanut butter or almond butter (really any nut or seed butter works here)
salt and pepper to taste
Directions
Rinse your chickpeas if they are from a can.
Put all your ingredients into a food processed, or a bowl and use a handheld blender. There is no wrong way to do this :)
Add more water if needed for desired consistency, and flavor with salt and pepper.
Garnish with parsley, or black olives.
Serve with organic corn tacos, sliced carrots, sliced cucumbers, celery and red pepper.