Homemade Fish Batter Recipe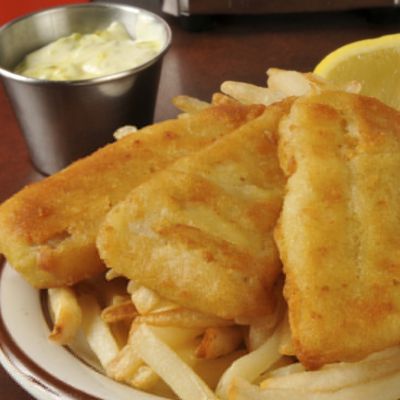 It is not to hard to make homemade fish batter and have that taste of the beach right in your backyard.
Ingredients
2 cups all purpose flour
1/2 teaspoon garlic powder
1 teaspoon lemon pepper
1 teaspoon paprika
1/2 teaspoon salt
1/4 teaspoon pepper
1 1/2 cups beer
2 1/2-3 lbs cod, cut 2x4 inch pieces
vegetable oil, for frying
malt vinegar, for serving
Directions
In a deep skillet or a deep fryer heat 2 inches of oil over medium high heat until it reaches 350-375F.
Mix together flour, garlic powder, lemon pepper, paprika, salt and pepper.
Stir in the beer slowly.
Dip fish pieces into the batter, shaking off any excess.
Using long tongs, placing 2-3 pieces of fish into the hot oil. Make sure you are not crowding the pan.
Cook for a couple minutes on each side until both sides are golden brown and crunchy.
Use a slotted spoon to transfer fried fish onto paper a parchment line tray in the oven to keep warm and crunchy until the rest are ready.
Serve with vinegar and french fries.