Ham Quiche Recipe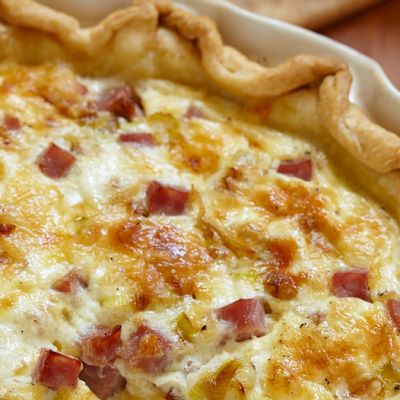 This ham quiche recipe has basic ingredients so if you are looking to make a quiche that is more basic, you may enjoy this recipe.
Ingredients
Crust
Makes (2) Crusts for 9 inch pans.
1 1/2 cups all purpose flour
3/4 teaspoon salt
3/4 cup butter
4-5 tablespoons cold water
Filling
1 onion, diced
2 Tablespoons butter
1 1/2 cup chopped cooked ham
4 eggs, beaten
1/2 cup milk
1 cup Swiss cheese, grated
Directions
Crust
Begin by placing the water in the freezer to cool for about 10 minutes.
To make a pie crust you will need a clean, flat counter top. You can also use a silicone baking mat.
To know exactly what size to roll your crust, just be sure that it is slightly bigger than your pie plate.
Sift the flour into bowl and mix together with the salt.
Cut in butter with a pastry cutter.
You can also use two butter knives if you dont have a pastry cutter.
Continue to cut work the mixture until it resembles the texture of coarse cornmeal.
Now, use a fork to mix in the cold water until it is just incorporated.
Its okay if you see little specks of butter, and flour and the dough is not smooth.
Use clean hands to form the dough together to form a ball.
Cut the ball into two pieces and store one in a bowl with a cloth over top so it does not dry out.
Sprinkle your working surface with a bit of flour, and keep the flour nearby in case your dough gets sticky you can add more on top of the dough and also on your rolling pin.
Flatten your ball down into a disc.
Use your rolling pin to roll out dough. Push from the center and roll evenly to the edges. Keep rolling and try to make a circle. If it is not perfect, it wont matter.
Dont overwork the crust
Gently transfer the dough onto your pie plate being careful not to stretch it.
In a skillet on the stovetop, melt the butter then sautee the onions until brown. Turn off and set aside.
Filling
Preheat oven to 350 degrees F.
In large bowl, beat together eggs and milk.
Add ham and cheese and mix well.
Pour into pie shell.
Bake for 45-50 minutes.
Cool at least 10 minutes before serving.