Grilled Pear Salad With Bacon, Roquefort And Port Vinaigrette Recipe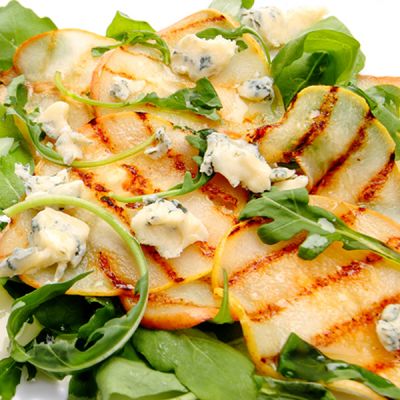 Amazing easy grilled pear salad.
Ingredients
2 cups ruby port
1 shallot, sliced
1 cup good quality olive oil
3 tablespoons red wine vinegar
salt & freshly ground black pepper
1 pinch cayenne pepper
1 large firm and ripe bosc pear
8 cups mixed baby greens
1/2 cup Roquefort cheese, crumbled
Directions
In a medium-sized saucepan, bring port and shallot to a boil. Reduce heat and simmer until reduced to 1/2 a cup. Strain into bowl. Cool.
Whisk oil and vinegar into Port. Add salt, pepper and cayenne to taste.
Cook bacon in s skillet until crisp. Transfer to paper towels. Crumble into small pieces.
Cut unpeeled pear into 1/4 inch slices and brush oil. Grill on a preheated barbecue or sautee in a skillet until golden brown in spots, about 2 minutes per side. Cool.
Divide among 4 salad plates.
Top with and Roquefort.
Drizzle each with a couple tablespoons dressing and serve.
Remaining dressing can be stored in a covered container in the refrigerator for 2 weeks.