Grilled Chicken Tacos Recipe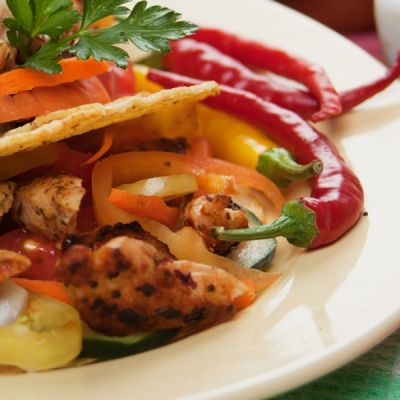 A very yummy recipe for grilled chicken tacos. Great served with a salad.
Ingredients
For the chicken
3-4 boneless skinless chicken breasts
1/4 cup vegetable oil
Juice of 1 lime
1 tablespoon red wine vinegar
2 tablespoons taco seasoning
1 teaspoon sugar
10 taco shells
1 orange pepper, sliced
1 large tomato, sliced
1/2 cucumber slided
1 cup salsa
Directions
In a large bowl, combine oil, lime juice, vinegar, taco seasoning, and sugar. Add chicken, coating all sides evenly with the marinade.
Cover and marinate for atleast one hour.
Preheat grill pan to medium-high heat. Add chicken and cook until cooked through flipping once.
Slice chicken and portion into taco shells with Peppers, tomato, cucumber and salsa to serve.