Good Old Fashioned Homemade Borscht Recipe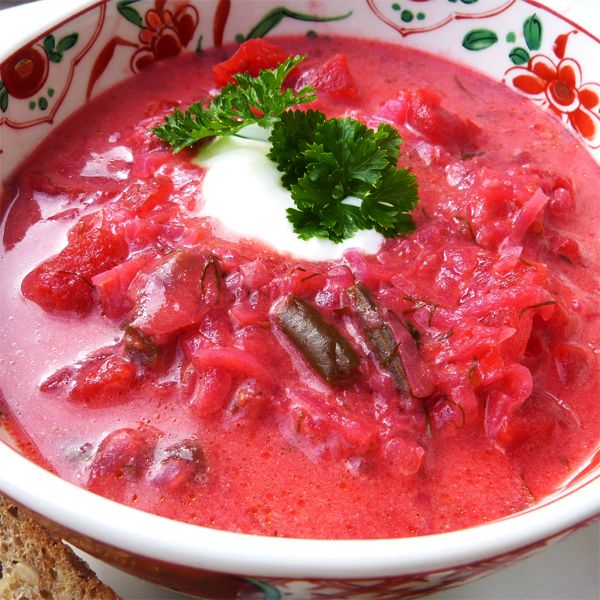 Colorful, delicious and even those that don't know what borscht is, usually like this soup recipe.
Ingredients
4 medium sized beats (about 4 inches in size)
1 diced white onion
2 large russet potatoes
1 carrot
2 cups fresh green bean sliced into 1" pieces
1/2 cup shredded cabbage
2 tablespoons freshly chopped dill
salt and pepper to taste
1 cup frozen peas
1 28 oz. can of stewed tomatoes, puree them
2 tablespoons butter
4 cups chicken or vegetable broth (you can use canned, tetra paks or bullions)
1 cup sour cream
*Extra sour cream to dollop on each bowl of sour and parsley if you want a garnish.
Directions
Use a large cooking soup pot.
Prepare your vegetables.
Peel the beets, potatoes and carrot.
It you have a food processor it is very quick to julienne cut the vegetables, otherwise you can cut them by hand.
Cut the beets first and set to the side in a serving bowl.
Cut the potatoes and carrot next and set aside, covering with water to keep the potatoes from browning.
Chop the onion into small pieces.
Warm the butter in the cooking pot on medium heat and add the onions.
Saute the onions until transparent, watch to not burn the butter.
Put the chopped beets into the pot and pour in the broth. Turn the heat up and bring to a boil. Now add the potatoes and carrot and continue cooking on medium heat.
If the vegetable are not completley covered with liquid add some extra water now.
While the soup is cooking, prepare the fresh green beans. Cut the ends off and discard. Chop the beans into 1/2 inch pieces and add them to the soup pot.
Add chopped dill and taste the soup. Add salt and pepper to taste if needed.
Continue to cook on low for 30 minutes.
Add the frozen peas.
When vegetables are tender, add the can of pureed tomatoes.
Taste again, you may need to add 1/2 to 1 teaspoon of salt to bring to full flavor.
Bring to a boil, then shut off heat.
Remove the lid and let the soup cool for 15 minutes.
Add the sour cream and stir in.
The flavor of borscht increases as it sits and is good for several days if kept refrigerated.