Gingerbread Cookies Recipe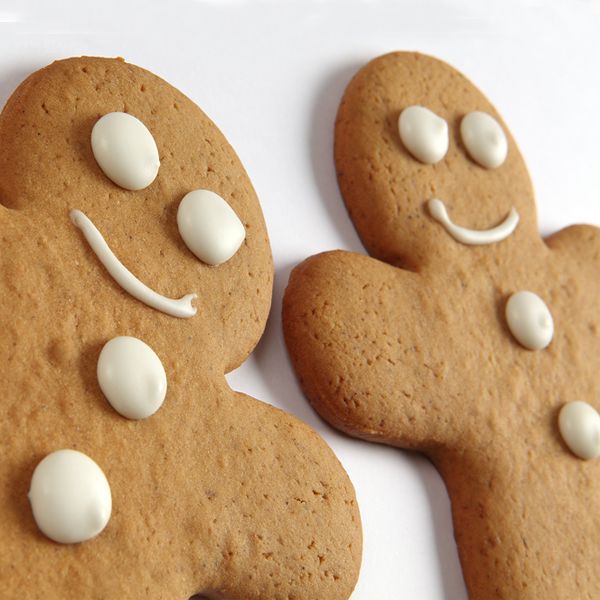 A soft gingerbread dough recipe that handles well and great flavor
Ingredients
The Dough
4 cups unbleached all-purpose flour
1 tablespoon ground ginger
2 teaspoons ground cinnamon
1 teaspoon salt
1/2 teaspoon grated nutmeg
1/2 teaspoon clove
1/2 teaspoon baking soda
1/2 lb unsalted butter
2/3 cup light brown sugar or 2/3 cup dark brown sugar
2 large eggs
2/3 cup unsulphured molasses
Icing
1 lb confectioners sugar
3 large egg whites
1 drop lemon juice or 1 drop vinegar
food coloring, if desired
Directions
For the dough, sift the dry ingredients (except sugar) into a mixing bowl and stir or whisk well to combine.
Beat the butter and sugar by machine and beat in the eggs, one at a time.
Continue beating until the mixture is smooth, scraping down often.
Beat in half the flour mixture, then stop and scrape down the bowl and beaters.
Beat in the molasses, scrape again, and beat in the remaining flour mixture, just until combined.
Divide the dough into several pieces and press each piece into a rectangle slightly more than 1/4" thick between 2 sheets of plastic wrap (this step is important).
Chill the dough for at least 1 hour or until firm.
Can be left overnight or frozen at this point.
Set racks in the middle and upper thirds of the oven.
Preheat the oven to 350°F.
Roll the dough, one piece at a time, on a floured surface just to make the dough flat and even but not much thinner.
The cookies should be 1/4 inch thick.
Cut with floured cutters and arrange on the pans at an inch or two apart, to make room for expansion during baking.
Repeat with remaining dough.
Re-roll the scraps immediately or press together, chill and re-roll later.
Bake the cookies for 8-10 minutes, until firm when pressed with a fingertip.
They wont have much extra color and should dent slightly when touched.
Cool the cookies on pans a minute or two, then transfer to racks.
Meanwhile, for the icing, combine the confectioners sugar and egg whites in a mixing bowl and beat by machine until combined.
Add the lemon juice or vinegar and continue beating till fluffy.
Divide the icing into several small bowls and add the coloring.
Keep plastic wrap pressed directly on the surface of the icing to prevent a crust from being formed.
Use a pastry bag or spread icing on cookies to decorate.
Use raisins, currants and other decorative sweet bits for extra garnish.
If you would like to use the cookies to hang on a Christmas tree, make a small hole near the top of the cookie as soon as they come out of the oven so you can get a narrow ribbon or string through.
Variation: Cut round cookies and sandwich them with some heated apricot jam.
The variations are endless.