Festive Poppy Seed Fruit Cake Recipe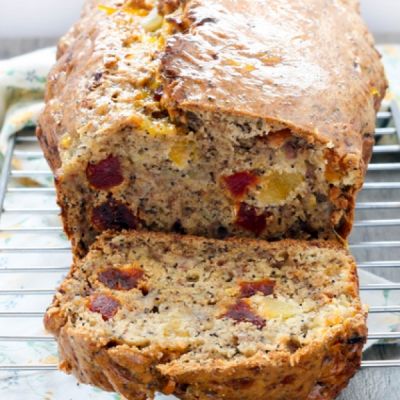 A Very tasty recipe for festive poppy seed fruit cake. Great enjoyed with a hot coffee.
Ingredients
1 1/2 cups all purpose flour
1 cup granulated sugar
2 eggs
1 cup dried fruits (cherries,raisins,pineapple)
1 Tablespoons poppy seeds
1 cup butter
1 teaspoon vanilla extract
1/2 cup orange juice
1/4 teaspoon salt
1 teaspoon baking powder
1 teaspoon baking soda
Directions
Soak the chopped dried fruits in orange juice and let them sit 2-3 hours.
Preheat oven to 350 degrees F. Grease a loaf pan.
In a large bowl, sift the flour,baking powder and baking soda with salt, set aside.
Beat together the butter, sugar, eggs add the vanilla.
Drain the orange juicefrom the soaked fruits then mix a tablespoon of flour to the fruits.
Slowly add the fruits, juice, flour and poppy seeds to the sugar mixture, combine but do not over mix. pour the mixture into the pan.
Bake for 35-40 minutes until a tester inserted in the center comes out clean.
Let the cake cool completely.