Creamy Potato Salad Recipe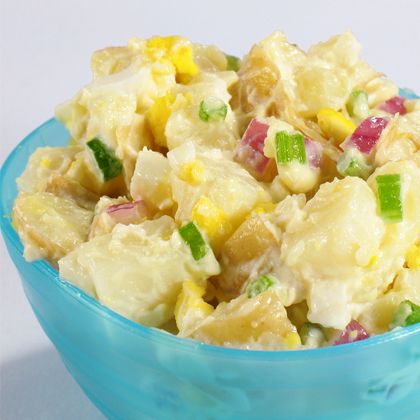 An excellent potato salad, just perfect for summertime meal planning
Ingredients
6 medium potatoes (2 pounds)
1 cup thinly sliced celery
1/2 cup finely chopped sweet red onion
1/3 cup sweet pickle relish or chopped mustard pickle
1 1/4 cups mayonnaise
1 teaspoons celery salt
2 teaspoons apple cider vinegar
1 teaspoons prepared mustard
1 teaspoon salt
5 hard boiled eggs, cooled and coarsely chopped
Directions
Cook potatoes in boiling, salted water until tender, don't overcook.
Drain well. Peel and cube potatoes. Transfer to a large bowl and let cool to room temperature.
Add celery, onion and sweet relish.
Combine mayo, celery salt, vinegar, mustard, and salt. Add mayo mixture to potatoes.
Toss lightly to coat potato mixture.
Carefully fold in the chopped eggs.
Spoon the mixed potato salad into a decorative salad bowl.Cover and chill thoroughly.