Cream Soup With Salmon Recipe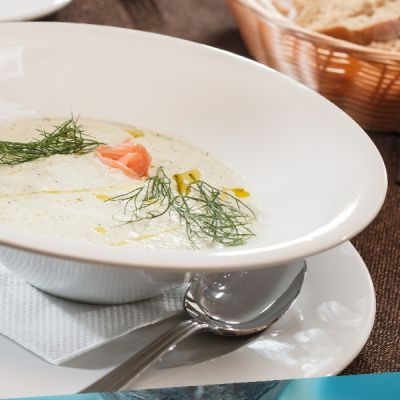 A very yummy recipe for cream soup served with salmon and fresh dill.
Ingredients
2 Tablespoons unsalted butter
4 cups thinly sliced leeks
4 cups chicken broth
2 large russet potatoes, peeled, diced
1/2 teaspoon ground white pepper
1/4 cup cream
1/2 teaspoon sea salt
3 Tablespooons fresh parsley, chives or dill, chopped
Garnish
thin smoked salmon
fresh dill sprigs
olive oil
Directions
Melt the butter in a large saucepan over medium heat. Add the leeks, cook 5 minutes, stirring occasionally.
Add chicken broth, potatoes, salt and pepper. Bring to a boil over medium high heat.
Reduce heat; cover and simmer 30 minutes or until vegetables are very tender.
Using a potato masher, mash soup to break up large potato pieces.
Stir in dill and cream.
Garnish with dill, salmon and a drizzle of olive oil to serve.