Coconut Cheesecake Recipe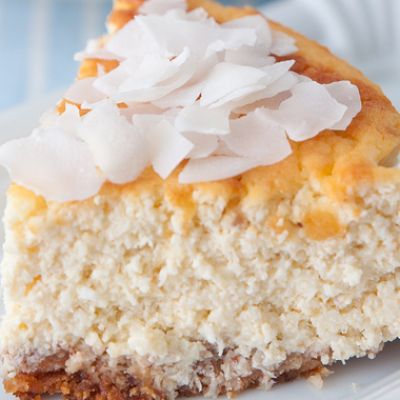 This coconut cheesecake recipe is for a cheesecake that is baked in a water bath. This helps to bake the cheesecake evenly and give it a creamy texture.
Ingredients
Crust
2 cups graham crumbs
1/2 cup unsweetened flaked coconut
2 Tablespoons granulated sugar
1/4 cup melted butter
Filling
3 (8oz) packages cream cheese, at room temperature
1 cup granulated sugar
3 eggs, room temperature
1 1/2 teaspoons pure vanilla extract
1 cup unsweetened flaked coconut
Directions
Crust
Preheat the oven to 350 degrees F.
Grease a 10 inch springform pan with butter.
Mix the graham crumbs, coconut flakes,sugar,and melted butter together.
Gently press the crust into the bottom of the springform pan and place into the preheated oven.
Bake for 8 minutes. Remove and set aside.
Filling
Place the cream cheese and sugar into a mixing bowl and use an electric beater to beat until you have a light fluffy consistency.
Beat in the eggs, one at a time. Beat in the vanilla.
Fold in the coconut flakes and pour onto the crust.
Wrap the outside of the springform pan in a double layer of aluminum foil. We are going to bake the cheesecake in a water bath.
Select a pan that is larger than the springform pan. Something like a roasting pan will work. Place the aluminum covered springform pan into the roaster and add enough water so that the level of the water is half way up the springform pan.
Bake for 65-75 minutes or until the center is only a bit jiggly and the top is barely browned.
Turn off the oven and leave the cheesecake to sit for at least 30 minutes, without moving it to help prevent the top from cracking.
Remove the cheesecake and let it sit at room temperature until it has cooled completely, then transfer to the refrigerator for and let it chill for 2 hours before eating.
Garnish with fresh coconut flakes.