Chocolate Raspberry Linzer Cookies Recipe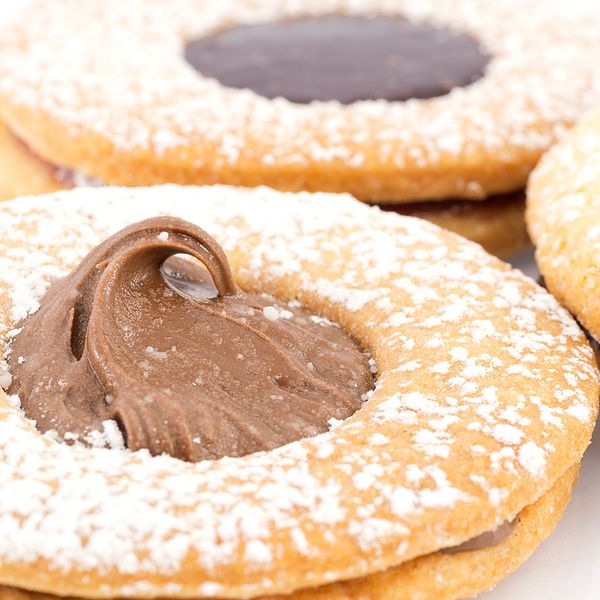 Linzer Cookies are a perfect addition to the cookie makers set of recipes.This recipe make about 3 dozen cookies.
Ingredients
2 1/3 cups all purpose flour
1 teaspoon baking powder
1/2 teapsoon cinnamon
1/2 teaspoon salt
1 cup sugar
3/4 cup ( 1 1/2 sticks) butter, softened
2 eggs
1 teaspoon almond extract
2 cups chocolate chips
6 tablespoons raspberry jam or preserves
confectioners sugar
Directions
In small bowl, combine flour, baking powder, cinnamon and salt; set aside.
In large mixer bowl, beat sugar and butter until creamy.
Beat in eggs and almond extract.
Gradually add flour mixture.
Divide dough in half. Wrap in plastic wrap; refrigerate until firm.
Preheat oven to 350 degrees F.
On a lightly floured board, roll out half of dough to 1/8 inch thickness.
Cut wtih 2 1/2 inch round cookie cutter.
Repeat with remaining dough. Cut 1 inch round centers from half of the unbaked cookies.
Place the cut cookies onto ungreased cookies sheets. Reroll dough trimmings to maximize use of the dough.
Bake 8 to 10 minues just until set. Land stand on cookie sheets for 2 minutes then remove from the cookie sheets onto cooling racks and cool completely.
Over hot (not boiling) water, melt the chocolate chips, stirring until smooth.
Spread 1/2 measuring teaspoon of raspberry jam on the flat side of each whole cookie.
Spread 1 measuring teaspoonful of melted chocolate on top of the jam.
Sprinkle confectioners sugar on cookies with center holes, place flat side down on top of the chocolate-jam cookies to form the cookies sandwiches. Put an extra dollop of melted chocolate in each cookie center.
Makes about 3 dozen cookie sandwiches.