Chocolate Cupcake With Easy Peanut Butter Buttercream Frosting Recipe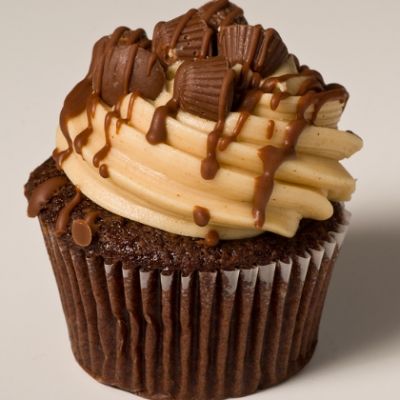 This is a quick and simple recipe to prepare and always tastes divine.
Ingredients
Cupcake:
1/4 cup butter
1 cup brown sugar
1 egg
1/4 cup cocoa
3/4 cup boiling water
1 cup flour
2 teaspoons baking powder
salt (just a dash)
Frosting:
8 tablespoons unsalted butter, softened
1/2 cup smooth peanut butter
3/4 cup confectioners sugar
1 pinch table salt
1/2 teaspoon vanilla extract
1 tablespoon heavy cream
Directions
Cupcake
Mix together margarine and flour until crumbly.
Add rest of ingredients and stir together well.
Grease muffin tins and lightly dust them with flour.
Spoon batter into tins about half full.
Bake@ 350° (175°C) for 20-25 minutes.
Check if ready by pushing finger down on cupcake and if it rises back up it is ready.
Frosting:
In standing mixer fitted with whisk attachment, beat butter and peanut butter at medium-high speed until smooth, about 20 seconds.
Add confectioners sugar and salt; beat at medium-low speed until most of the sugar is moistened, about 45 seconds.
Scrape down bowl and beat at medium speed until mixture is fully combined, about 15 seconds; scrape bowl, add vanilla and heavy cream, and beat at medium speed until incorporated, about 10 seconds, then increase speed to medium-high and beat until light and fluffy, about 4 minutes, scraping down bowl once or twice.