Chocolate Caramel Squares Recipe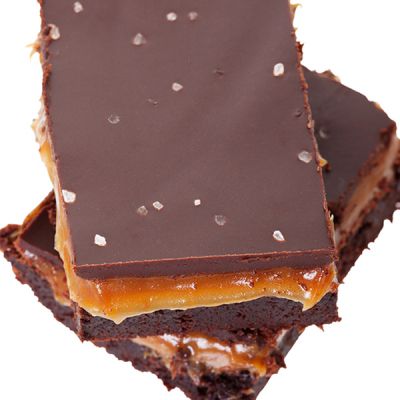 A quick and easy to throw together treat recipe that the kids will love.
Ingredients
1 (14 ounce) bags caramels
2/3 cup evaporated milk, divided
1 (18 1/2 ounce) packages regular German chocolate cake mix
3/4 cup butter, softened
1 cup chopped nuts
2 (6 ounce) packages semi-sweet chocolate chip
seasalt
Directions
Combine caramels and 1/3 cup evaporated milk in top of a double boiler; cook, stirring constantly, until caramels are completely melted.
Remove from heat.
Combine dry cake mix, remaining 1/3 cup milk, butter and nuts; stir until dough holds together.
Press 1/2 of cake mixture into a greased 13x9x2 inch baking pan.
Bake at 350F degrees for 6 minutes.
Sprinkle 1 package of chocolate chips over crust.
Pour caramel mixture over chocolate morsels, spreading evenly.
Crumble remaining cake mixture over caramel mixture.
Top with the other package of chocolate chips.
Return to oven and bake 15 to 18 minutes.
Take out of oven and with a spatula, spread the chocolate chips evenly.
Sprinkle with seasalt.
Chill 30 minutes and cuts into small bars.