Chicken Francaise Recipe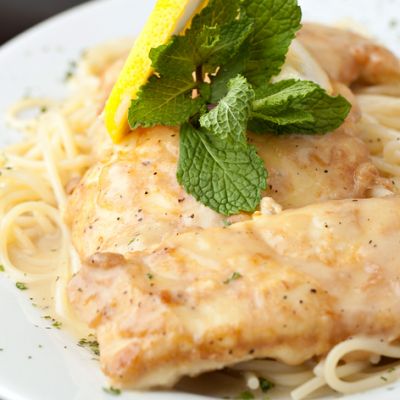 This delicious chicken francaise recipe is a great way to prepare chicken breasts. The breast are cooked in white wine, garlic and other seasonings in a skillet, then drizzled with a white wine sauce. Very nice with pasta.
Ingredients
1 Tablespoon olive oil
1/2 teaspoon salt
2 pounds spaghetti
8 boneless skinless chicken breasts
2 cups all purpose flour
1 cup egg, beaten
2 Tablespoons lemon juice
1/4 cup parsley, very finely chopped
1/4 teaspoon salt
1/4 cup white wine
3 cloves garlic, minced
2 dashes hot pepper sauce
1/4 cup parmesan cheese, grated
2 Tablespoons butter
Sauce
1/2 cup butter
1/2 cup white wine
1/4 cup lemon juice
a few sprigs mint, for garnish
8 lemon slices, for garnish
(Serves 8)
Directions
Bring a large saucepan of water to boil over high heat.
Add 1/2 teaspoon salt and 1 tablespoon olive oil.
Once boiling, add spaghetti and cook according to package directions.
When pasta is done, drain and set aside in saucepan.
To prepare the chicken
Put flour in a shallow plate. Dredge chicken breasts in the flour until well coated. Shake off excess flour and set aside.
In a medium bowl, combine the beaten eggs, lemon juice, parsley, salt, wine, garlic, hot pepper sauce, and parmesan cheese.
In the bottom of a large skillet, melt the 2 tablespoons butter over medium heat.
Once the butter is hot, dip the chicken in the egg mixture and generously coat. Carefully place the chicken in the hot skillet. Work in batches, if necessary.
Cook for about 5 minutes on one side, until golden.
Flip the chicken and cook for another 5 minutes on the other side, until golden brown and cooked through.
Once cooked, remove chicken from the skillet and set aside. Drain off excess oil.
Sauce
With the skillet still over medium heat, make the sauce.
Add the butter.
Once the butter is melted, add the white wine and lemon juice.
Return the chicken to skillet and cook for another 2 minutes.
To serve
Divide the cooked spaghetti evenly between 8 plates.
Top each with a chicken breast and drizzle over the remaining sauce.
Garnish each plate with a few mint leaves and a slice of lemon.
Serve immediately.