Baked Cod Recipe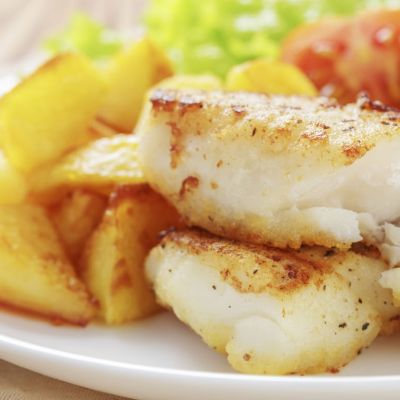 This baked cod recipe is first pan fried so it gets nice and brown and then baked with refreshing lemon and paprika.
Ingredients
4 cod fillets, each 1 inch thick
1 1/2 tablespoons lemon juice
1 tablespoon olive oil
2 cloves garlic, minced
1/2 teaspoon dried thyme
1 pinch of salt
1/8 teaspoon black pepper
1/4 teaspoon paprika
Directions
Preheat oven to 400 degrees.
In the meanwhile, heat a large frying pan with butter.
Place the fillets into the the frying pan and cook for 1 minute on high heat to brown on each side.
Immediately transfer and arrange the fillets in a large baking dish.
Drizzle with the lemon juice and olive oil.
Rub on garlic, salt, pepper, and paprika.
Bake 15-20 minutes, until you canít see through the fish, but still juicy. Flip fillets over half way through cooking time.