Authentic Chile Relleno Recipe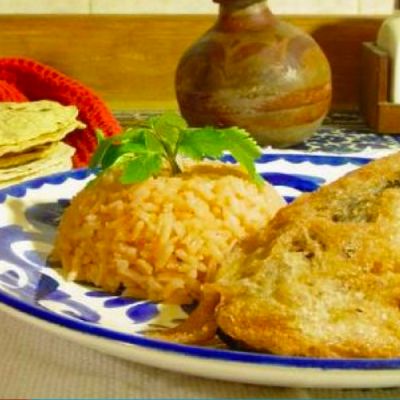 A classic mexican recipe for chile relleno.
Ingredients
4 large poblano peppers
1/2 cup shredded mozzarella cheese
1/2 cup shredded Monterey Jack cheese
1/2 cup shredded Cheddar cheese
1/4 cup all-purpose flour for dredging
1 (14.5 ounce) can Mexican-style stewed tomatoes
1 tablespoon vegetable oil
1/2 onion, chopped
1 clove garlic, minced
1 1/2 cups chicken broth
2 tablespoons distilled white vinegar
1 teaspoon dried Mexican oregano, crushed
1/2 teaspoon ground cumin
1/2 teaspoon black pepper
1/2 teaspoon hot pepper sauce (such as Cholula®)
1/8 teaspoon ground cinnamon
1/3 cup all-purpose flour
1/2 teaspoon salt
5 egg whites at room temperature
1 egg yolk, beaten
1/4 cup all-purpose flour for dredging
1 cup oil for frying, or as needed
sour cream and lettuce for garnish
Directions
Preheat the ovens broiler and set the oven rack at about 6 inches from the heat source. Line a baking sheet with aluminum foil, and place the peppers onto the prepared baking sheet.
Cook under the preheated broiler until the skin of the peppers has blackened and blistered, 8 to 10 minutes per side. When the peppers are about 80 percent blackened, place them a plastic bag, seal, and allow the peppers to steam as they cool, about 20 minutes. Once cool, remove the skins and discard. Cut a slit lengthwise into the side of each pepper, and remove seeds and veins. To reduce spiciness, rinse out any remaining seeds with water. Pat the peppers dry with paper towels.
Mix together the shredded mozzarella, Monterey Jack, and Cheddar cheese in a bowl until thoroughly blended. Divide the cheese into 4 portions, and squeeze each portion lightly in your hands to make a cone shape. Insert a cone into the slit in each pepper, and pin the openings closed with toothpicks. Dredge each pepper in flour, dust off the excess, and place on a small baking sheet lined with parchment paper or waxed paper. Place the peppers in the freezer for at least 30 minutes.
To make sauce, blend the stewed tomatoes in a blender until pureed, and set aside. Heat 1 tablespoon of vegetable oil in a saucepan over medium heat, and cook and stir the onion until translucent, about 5 minutes. Add the garlic, cook and stir for about 30 seconds, and pour in the pureed tomatoes, chicken broth, vinegar, oregano, cumin, black pepper, hot pepper sauce, and cinnamon. Reduce to medium-low, and simmer the sauce until reduced by half and thickened, about 20 minutes, stirring often.
Preheat an oven to 200 degrees F (95 degrees C), and warm a platter in the oven.
To make batter and finish the chiles rellenos, mix 1/3 cup flour with salt in a bowl. In a separate bowl, beat the egg whites with an electric mixer until the whites form stiff peaks. Lightly mix the egg yolk and flour-salt mixture into the egg whites to make a fluffy batter. Remove peppers from freezer and coat them in flour again; shake off excess flour, and dip each pepper into the egg batter, using a spoon to gently but completely coat each pepper with batter.
Heat frying oil in a heavy cast iron skillet over medium-high heat until the oil shimmers. Gently lay the coated peppers into the hot oil, and fry on both sides until the batter is golden brown and the cheese filling is hot, about 5 minutes per side. Remove peppers to warmed platter while you finish frying. To serve, ladle a generous spoonful of sauce onto plate, and place pepper on sauce. Serve peppers hot with a dollop of sour cream.